IFMA Global India 2022 - Your Destination to Connect, Learn and Grow
IFMA India and India's leading B2B event's organizer, Informa Markets in India bring to you the much awaited IFMA Global India 2022 in-person conference on May 27, 2022 at the Chancery Pavilion Hotel, Bengaluru, India.
The conference with the theme "Forging the 7C's of Business Resilience in FM & RE -2022" will see local and global thought leaders and experts address market changes and chalk out the strategy forward to impact operational efficiencies, provide for employee engagement, health and wellness, impact sustainability and environment among other areas.
The FM industry is growing at a rapid pace and the roles of FMs are broadening to encompass more responsibilities and skill sets to leverage technological solutions and guarantee compliance. Properly managed facilities are a must in any organisation in the world today for a variety of reason, ranging from safety to employee motivation. Properly managed facilities exponentially increases the efficiency of the business with very little disruption at work.
The event offers the ideal opportunity for suppliers to showcase their products & services, network and connect with key decision makers from every level of a wide range of sectors.
Hear the Market Leaders Discuss:
Future Workplace, Prioritising People over Place
Game Changing Leadership Strategies
Mentoring –Shortest route to Career Success
Keeping and Attracting FM talent
Simplify Data Management
Building Smart Workplaces with Analytics
Gender Equality in FM
The Critical Relationship between Buildings and Sustainability
Industry Stalwarts Speaking :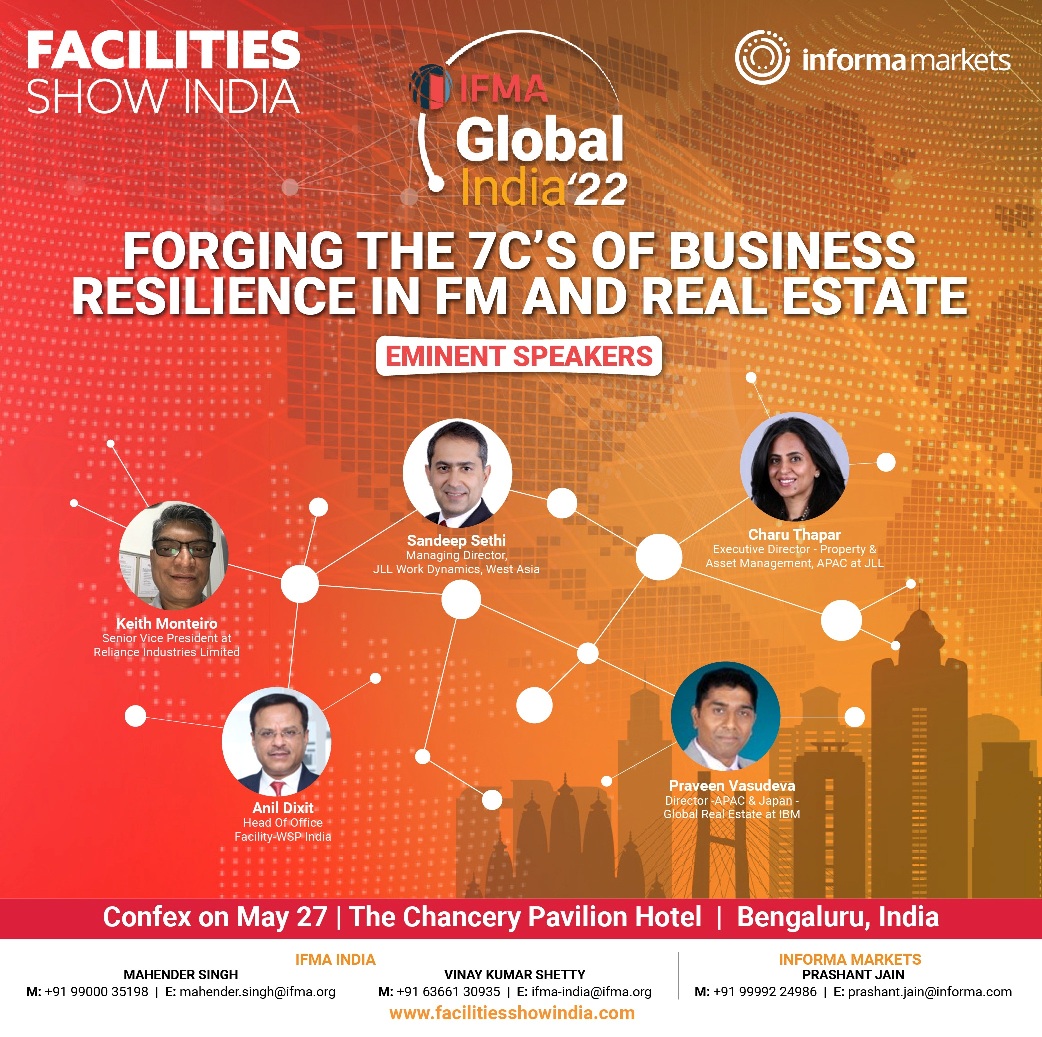 A platform to Connect, Network and Grow. For enquiries to the conference click on the link below. https://facilitiesshowindia.com/conference_enquiry.php
Partnership opportunity